GRAND PARADE
SATURDAY, OCTOBER 14 AT 11 AM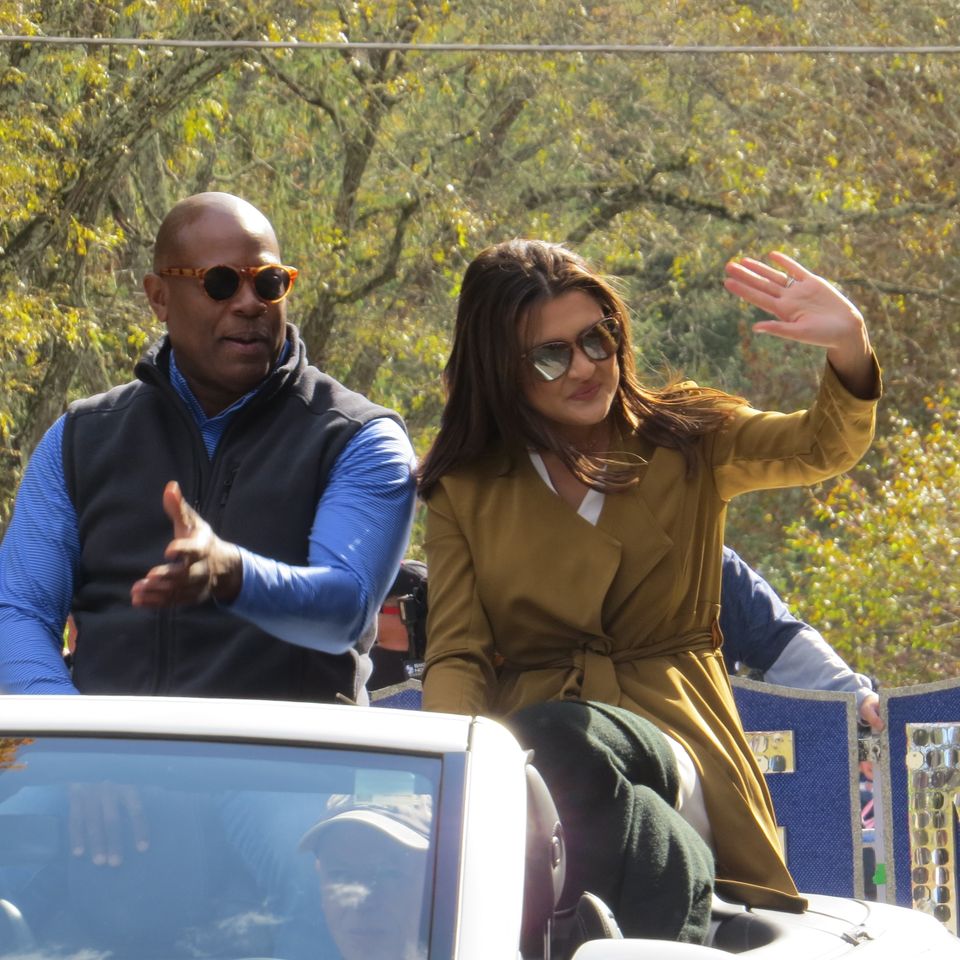 SATURDAY MORNING COMING DOWN…
 
…Down Main Street that is — The big parade that is the festive central event of Fort Ligonier Days marches down the length of the town through a human canyon of 50 or 60 thousand people.

It's an October tradition, a Saturday tradition, a Ligonier tradition. Families and school classes build reunions around it. Porches, sidewalks, tree lawns and other perches will be packed with parade watchers from far and wide. Yet, for all its size and vast variety, a personal quality has always been one of the charms of this parade as participants and spectators trade greetings along the route. A palpable sense of pleasurable anticipation ripples through the crowd along Main Street and through Ligonier's beloved Diamond when the parade kicks off at 11 o'clock.

There will be marching bands (lots of 'em), floats, a rolling panoply of exotic cars, vintage military vehicles, tractors, trucks and novelty vehicles. There will be "personalities" — both animal and human, 18th century military re-enactors from the encampment at Fort Ligonier, American Civil War re-enactors, the ever-popular Shriner units (some new ones this year), and much more.

The impressive Pennsylvania State Police Ceremonial Unit will be leading off the parade. And if there's an inevitable Steeler vibe running through the event, the massed drummers of the Pittsburgh Steeline could be part of it, as well as the presence of former Steeler quarterback Charlie Batch, representing his Best of the Batch Foundation, which serves nearly 4000 kids and their families throughout Southwestern Pennsylvania with after-school programs that help them "navigate the challenges of growing up."

High School bands, some of the most renowned in Pennsylvania and West Virginia, will be a big feature this year. Among the biggest will be Morgantown (W. Va.) High School's "Mohigans;" Franklin Regional High School's Panthers, and a perennial favorite, the Butler High School Golden Tornado Band.
Other bands to watch for include the Philip Barbour High School band from Philippi, W. Va.; the Trinity Christian School band, from North Versailles, and other popular high school units from Ligonier, Derry, Latrobe, Jeannette, Hempfield, and beyond. The Seton Hill University Griffins marching band will also be performing, as well as the stirring Pittsburgh Firefighters Memorial Pipe band.

There's more, much more, to see, as always, in little Ligonier's biggest parade, so settle in, enjoy the crowd and crane your necks for some pleasant surprises to stir your heart and tickle your funny bone.

**THIS JUST IN.....Mike Clark, Andrew Stockey, Kelly Sasso, Elena LaQuatra and Ava Rash from WTAE will be participating in our parade..

Don't miss it!